Product Design, Lighting Design, Retail Lighting
Design an architectural light fitting that would help a retail outlet increase sales and achieve merchandising goals. 
Remote Controlled Lighting (RCL) is the only company in the world to specialise in the design and manufacture of remote controlled spotlights. RCL's patented technology allows spotlights on high ceilings to be focused from floor level, eliminating the need for the cost, delays and dangers associated with the use of long ladders, scaffolding and mechanical lifts. Spotlights can be individually aimed and dimmed by non-technical staff using a simple hand-held controller. RCL products are ideal for hotel ballrooms, banqueting suites, art galleries, museums and store windows. Wherever spotlights are installed on high or inaccessible structures, RCL solves the focusing problem.
Discover & define - conceive - develop - implement
Initial research into lighting identified an efficiency problem with retail lighting. In one of the journal articles I read, lighting was identified as a highly sophisticated and powerful tool, "yet, many retailers do not realise the importance of treating it as part of an overall design approach — or  the need for 'separation' that is, concentrating on lighting the merchandise as opposed to the shop walls." I investigated this assertion by making a trip to Oxford and Regent Streets in London. The insights gathered set the tone for this project's design direction.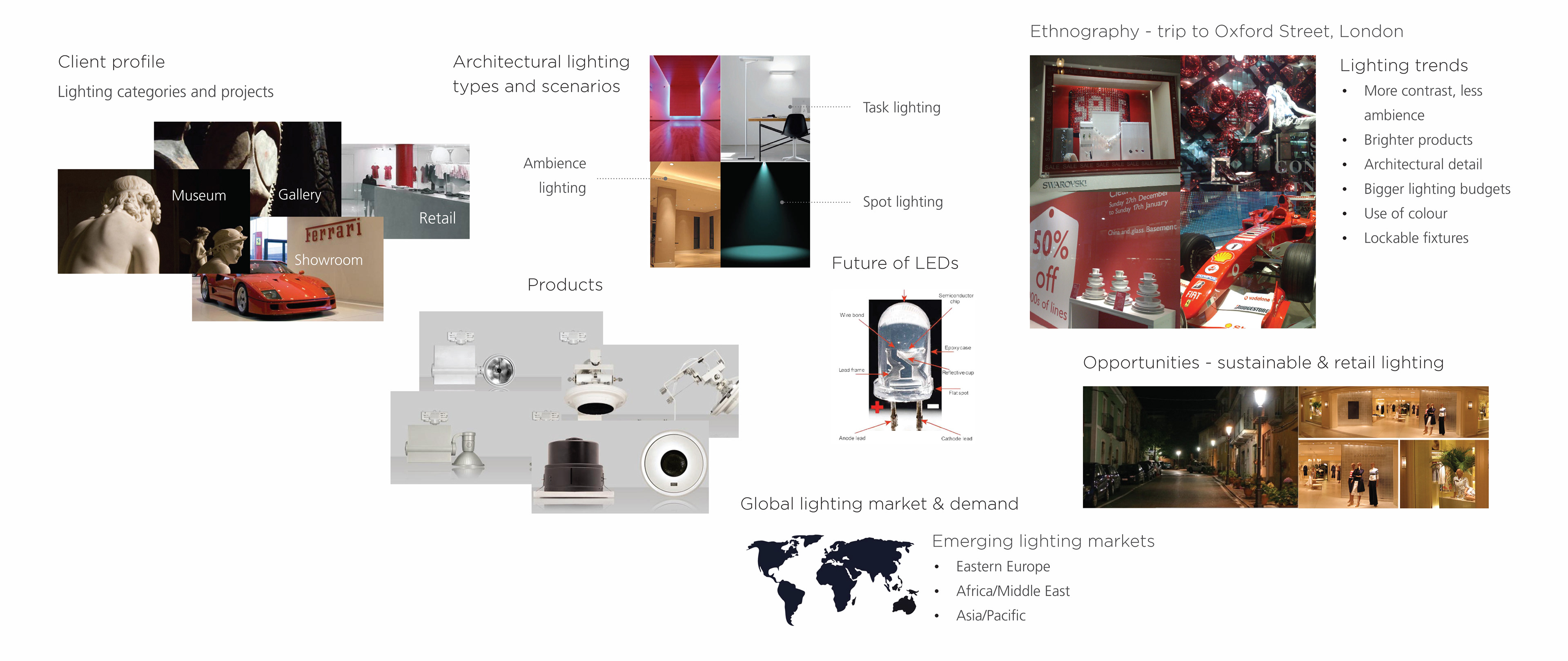 Design an architectural light fitting that would help a retail outlet increase sales and achieve merchandising goals. Focus  light on the key  attractive features of a clothing item.  Why? To attract, inform, engage and sell. How? More contrast, less ambience.
After analysing the research insights, the idea was to focus on efficiently using light to drive sales, reduce energy consumption and in turn reduce lighting costs. I concurred that there should be more attention on the merchandise rather than on everything. I took this thinking a bit further by suggesting that light should be more concentrated on the key attractive features of a piece of clothing on display, such as fabric richness, details of stitch lines, and brand elements.
Developing the idea into a proof-of-principle prototype began with further research into optics. One of the main challenges was working out the mounting arrangement that would provide the desired lighting effect and be easy to operate for shop floor workers (merchandisers). I experimented with the focusing stem to determine which orientation produced a high-contrast spot light with less ambience. It was identified that by positioning the Luxeon Star at an angle (between 45 and 90 degrees depending on the merchandising strategy) to the lenses, the desired bright spotlight could be obtained, which could then be focused on a clothing feature to capture the attention of the passer-by.
The final lighting effect focuses on the main attractions of clothing items on display. This allows the retail store to tailor its merchandising strategy to capture the attention of the customer in order to increase sales. The high contrast and reduced ambience add drama and richness to the scene, allowing items to make a bold statement. In the process, the store reduces its energy consumption by using as minimal light as possible by focusing on the interesting features. It in turn reduces its lighting costs, further enhancing its bottom line. With this RCL architectural light fitting, the retail store no longer has to light up everything, including shop walls - a "turn the light on and hope" lighting scenario, which it can no longer afford in a highly competitive retail market.